Ensuring that your business's digital presence matches its physical one is crucial in today's landscape. While it's a necessity, this process can be complex and resource-intensive. Engaging in software consulting can provide invaluable guidance to navigate industry trends and steer towards success.
Many entrepreneurs may believe they don't require consulting and have their digital transition plans in place. However, in our 4 years of experience as a custom software development company, we've witnessed numerous business leaders make this costly oversight.
According to Gartner, 91% of businesses are currently involved in some form of digital initiative, with 87% of leaders prioritizing digitalization. Surprisingly, Deloitte's recent publication highlights that 70% of digital transformation projects ultimately falter.
Given this reality, can you afford to forgo professional consultation for your custom software needs? In this blog, we'll elucidate why software consulting can be a game-changing decision for your business and offer insights on how to identify trustworthy software advice in this thriving industry.
What is Software Development Consulting?
Software development consulting entails the thorough assessment of a company's software needs. It involves determining optimal software development methodologies, selecting an appropriate technology stack, and estimating the necessary budget for a company aiming to establish its online presence.
Trustworthy software consulting firms provide tailored technological solutions designed specifically for your business. Moreover, they assist in crafting a roadmap for successful software development, emphasizing critical aspects of your digital journey.
Advantages of Seeking Consulting for Custom Software Development in Your Business
Certainly, software development consulting plays a crucial role in driving digital transformation. Here's how engaging in custom software development consulting can be advantageous for your business.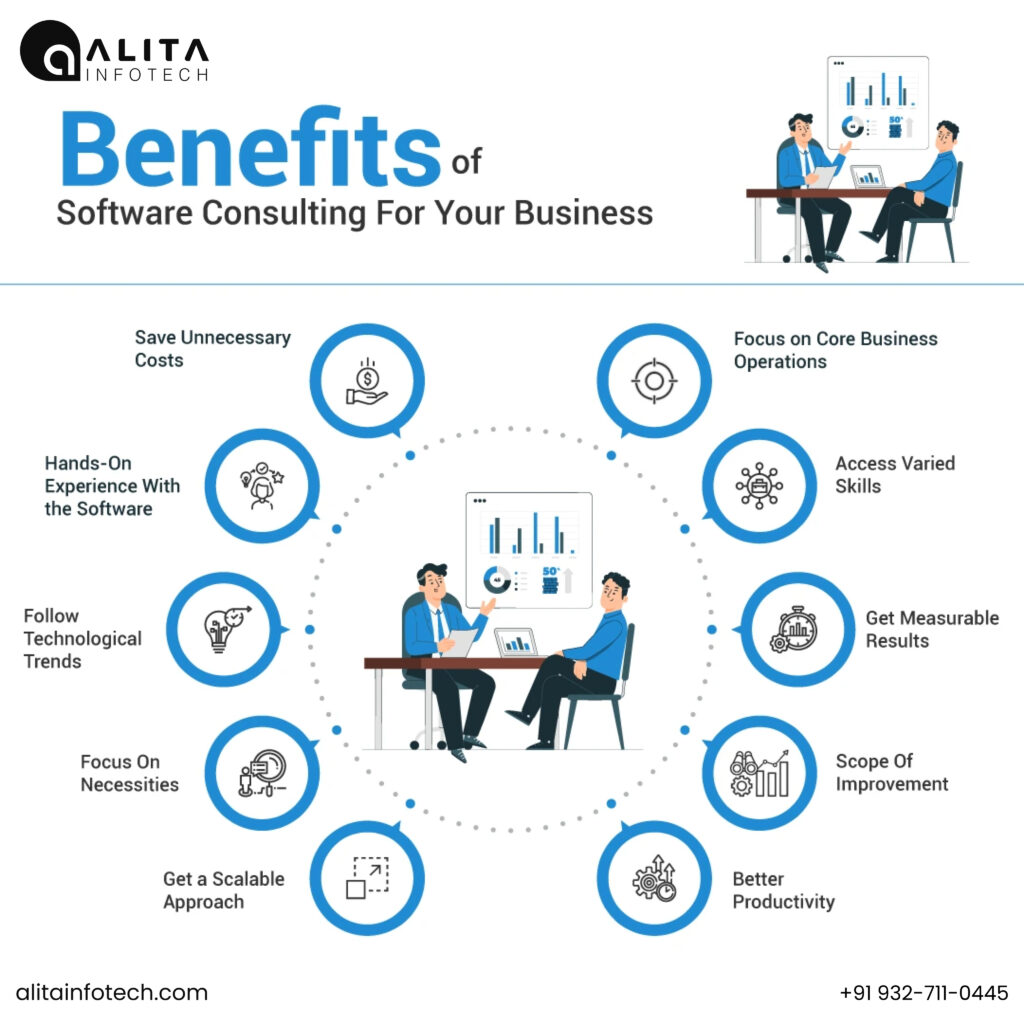 Embrace Scalability
Through a comprehensive analysis of your business, software development consultants devise a tailored process that aligns seamlessly with your business model. Their recommendations are rooted in a deep understanding of current methodologies and how they can be streamlined for efficiency.
Consulting guarantees that all decisions are in line with the business's long-term objectives. As a result, the proposed approach and technologies optimize existing systems while providing them with the essential upgrades they need.
Prioritize Essentials
For expanding businesses, it's easy to become immersed in numerous innovative endeavors. While this may seem enticing, it can potentially impede the progress and success of your software development initiatives. Software development consulting serves to declutter and focus on what truly matters for your business.
With the assistance of consultants, you can establish a well-defined roadmap for software development. This plan accommodates room for potential errors, outlines key milestones, and outlines the upgrade process.
Stay Current with Technological Trends
Continuous technological advancements lead to shifts in industry practices. There are consistently improved technologies to integrate into your projects, providing them with a competitive edge.
By seeking consultation and collaboration with a custom software development company, you not only stay updated on the latest technologies but also seamlessly integrate them into your software. They assume full development responsibilities to ensure your business reaps substantial benefits from the software product.

Practical Familiarity with the Software
Within your in-house team, there may be individuals with varying levels of technical expertise. Introducing new software can sometimes be challenging or perplexing for them. However, reputable software consulting companies can assist your team in comprehending the usage approach and adapting to the software more efficiently. Additionally, if your development partner offers post-development support, it would be an added benefit, as you can rely on them in case any difficulties arise in using the software seamlessly.
Minimize Unnecessary Expenses
Depending on the size of the company, IT downtime can lead to significant losses, ranging from $145,000 to $450,000 per hour. However, the potentially devastating impact of this on a business is often underestimated. Ignoring this issue is not an option for a thriving firm like yours, as it affects various areas including internal operations, customer experience, and overall revenue.
Engaging software development consulting services can effectively help you manage downtime. They provide prompt solutions for unforeseen situations, thereby substantially reducing potential revenue losses.
Prioritize Core Business Functions
Undertaking digital transformation or introducing a new software product is not a one-time event. It constitutes an ongoing and extensive process involving critical operations essential for achieving desired outcomes.
The list of long-term IT activities is extensive, including fundamental tasks such as:
Reassessing business processes
Formulating and implementing effective technical strategies
Enhancing efficiency with minimal expenditure and time investment
Boosting productivity
Monitoring software performance

However, in addition to software endeavors, there are core business operations involving the actual exchange of goods or services. You likely already have a multitude of responsibilities on your plate, such as sales, inventory management, recruitment, and revenue oversight.
Attempting to manage both aspects simultaneously can be overwhelming. Engaging in software consulting provides the necessary flexibility to oversee everything effectively. The chosen development partner will devise a strategic roadmap and ensure processes align with all IT requisites, allowing you to focus on vital business functions without compromising their efficacy.
Access a Diverse Skill Set
It's not uncommon for a consulting company specializing in custom software development services to maintain a comprehensive team of experts capable of handling various tasks. Consequently, throughout the development journey, you will have access to a proficient design team, experienced developers, and other professionals.
This team not only offers guidance on technical aspects and development requirements but also delivers a meticulously executed software product tailored to support your business effectively.
Attain Tangible Outcomes
Outsourcing tasks often hinges on achieving quantifiable results within specified timelines, and this holds true for outsourcing custom software development for your business. Your development partner commits to delivering specific outcomes.
This involves devising a unique software development approach tailored to your business requirements, overseeing the software's development and deployment, and providing training to your in-house staff for its utilization. Consequently, you have the ability to assess the performance and impact of their work at any given juncture.
Identify Areas for Enhancement
The pivotal role of software consulting lies in evaluating a business's technical risks, scrutinizing existing gaps, and proposing solutions to bridge those gaps. Diverse experts within the team examine various facets of automation that you anticipate through the software.
For instance, designers focus on devising an apt design implementation for seamless utilization of the mobile or web application. In tandem with other team members, they compile a list of pivotal features for your software. Additionally, custom software developers scrutinize the product's performance, comparing it against the metrics you've established. Moreover, they apprise you of any potential avenues for improvement based on user feedback and prevailing industry trends.
Enhanced Efficiency
Engaging in software development consulting services optimizes your business processes through extensive automation. This leads to a marked improvement in employee productivity across various facets.
With a well-defined roadmap, a clear user journey, and precise software development requirements in place, you gain a clear understanding of the anticipated final product. Consequently, through effective resource allocation, you can prioritize critical tasks and temporarily suspend those that hold lesser importance or are deemed unnecessary.

The Roadmap of Software Development Consulting
The custom software development process encompasses various stages, starting from comprehending the business and market landscape to aligning perspectives on the software's objectives. Once the software consultants achieve this alignment, they proceed with the design, development, and deployment of the application.
However, the journey doesn't conclude upon delivery. Post-development support and maintenance are integral components. Let's delve deeper into this roadmap.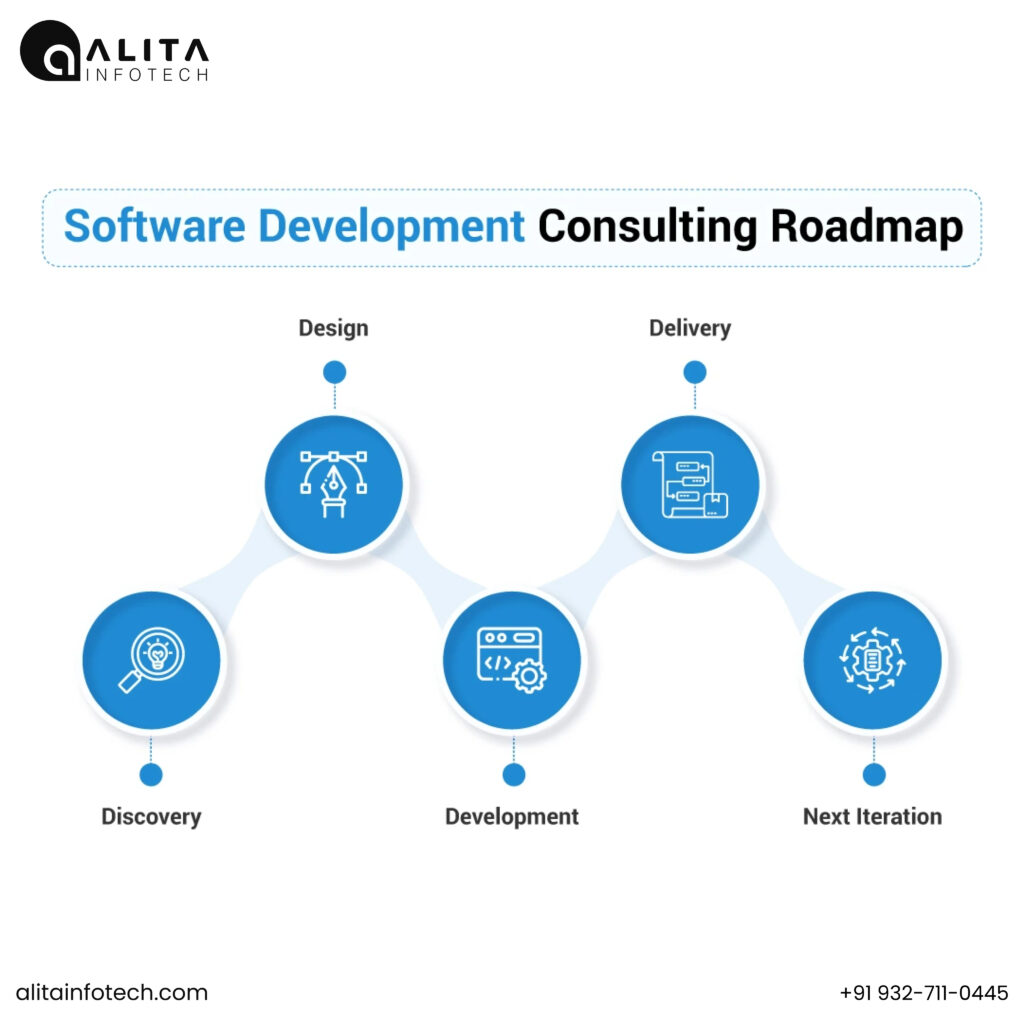 Exploratory Phase
Prior to embarking on the actual software development journey, it is imperative to gather comprehensive information about the business and its distinctive requirements. The application not only needs to support day-to-day operations but also must stand out in the competitive market.
Hence, the software development consulting service provider collaborates closely with the client to grasp their business objectives, aspirations, and challenges. The company also conducts an exhaustive assessment of the client's existing software systems and processes to pinpoint areas for enhancement.
At the culmination of the exploratory phase, both the client and consulting company possess a detailed blueprint of the software, encompassing its features, technology stack, and primary objectives.
Design Phase
Building upon the discussions and decisions made in the exploratory phase, the design experts develop a wireframe for the software. This wireframe serves as a visual prototype, illustrating how the software will look and function. It also elucidates the functionality of features and transitions. Once the client approves the wireframes, comprehensive mockups are created for the developers to proceed.
Development Phase
This marks the commencement of actual development work. Developers now implement all the plans agreed upon during the exploratory phase. They construct various features, render the wireframes interactive, and integrate cutting-edge technologies to ensure the application is forward-looking.
Before advancing to the next stage, the software consulting service provider conducts thorough testing to ensure the software is free of bugs, efficient, and aligns with the client's requirements.
Deployment Phase
After comprehensive testing and refinement, the consulting service provider deploys the software into the client's environment. This process involves configuring the software, establishing user accounts, and ensuring all necessary integrations are in place.
Continual Refinement
Even after the software solutions have been deployed, it's important to recognize that the work isn't complete. Your software will require ongoing attention and enhancements. The service provider also extends continuous support and maintenance services to ensure the seamless and efficient operation of the software.
This encompasses activities like training the client's staff, troubleshooting any issues that may arise, and implementing necessary updates and improvements to the software.
We trust this provides you with a clearer understanding of how software consulting operates. Nonetheless, there are additional crucial aspects that warrant your attention to fully leverage these services.
As you've come this far in the post, ensure you don't overlook the pivotal statistical insights we have in store.
How to Identify and Approach the Finest Software Consulting Company?
The landscape of custom software development and consulting is experiencing rapid expansion, driven by an escalating demand for top-notch software support. According to a report from Precedence Research, the global software consulting market attained a valuation of USD 275.82 billion in 2022 and is projected to reach approximately USD 902.07 billion by 2032, showcasing a compound annual growth rate (CAGR) of 12.58% from 2023 to 2032.
Report Highlights:
Market Size in 2023: USD 310.52 Billion
Market Size by 2032: USD 902.07 Billion
Growth Rate from 2023 to 2032: CAGR of 12.58%
Largest Market: North America
Fastest Growing Market: Asia Pacific
Base Year: 2022
Forecast Period: 2023 to 2032
Segments Covered: By Application, By Enterprise Size, and By End-Use
Regions Covered: North America, Europe, Asia-Pacific, Latin America, and Middle East & Africa
Source: Precedence Research
Given this thriving market, there is a plethora of service providers to choose from. Hence, making a judicious selection of a software consultant for your project is of paramount importance. Below are steps to guide you in the process of identifying a reliable custom software development company you can trust.
Define Your Needs
Before you embark on the search for a software development consulting company, it's imperative to have a crystal-clear grasp of your requirements. What are your business objectives, and what specific challenges do you aim to tackle through software development consulting? A precise understanding of your needs will assist you in pinpointing the companies that are most adept at fulfilling them.
Conduct Research on Potential Firms
Once you have a well-defined grasp of your requirements, you can initiate the process of researching potential consulting companies. Seek out firms with a proven track record of delivering top-tier software development consulting services, particularly those with experience in your industry.
Verify References and Assess Reviews
Before approaching a consulting company, it's crucial to verify their references and peruse reviews. Look for feedback and testimonials from previous clients, and don't hesitate to request references directly from the consulting company.
Arrange a Consultation
Once you've identified a shortlist of potential consulting companies, schedule consultations with each of them. During these sessions, inquire about the company's experience, expertise, and approach to software development consulting. This is also an opportune time to delve deeper into your requirements and assess whether the company aligns with your needs.
Evaluate Proposals
Following the consultations, carefully review the proposals from each consulting company. Pay attention to the level of detail, organization, and how well they address your specific requirements. Take note of the proposed scope of work, projected timeline, and cost estimates.
Reach a Decision
After a thorough review of the proposals, make a decision based on which company you believe best suits your needs. Consider factors such as expertise, experience, approach, and cost. This comprehensive process aims to empower you to make informed decisions.
Conclusion
In conclusion, sound decision-making coupled with dependable software consulting is the key to navigating the intricate phases of development, deployment, and ultimately achieving success for your application. We trust that this blog has provided you with the crucial insights you were seeking.
Given that software development demands a substantial investment of resources and time, it's prudent to proceed with a well-defined plan and contingencies in place. A trustworthy partner in custom software development will guide you through every stage, ensuring you emerge on the other side with a robust application for your enterprise.
At Alita Infotech, our team of experts has been catering to the software needs of diverse industries for over four years. With a dedicated team of over 60 experienced and skilled professionals, we bring forth our utmost innovation and efforts to exceed customer expectations. Regardless of your industry vertical, if you're in search of services to develop or maintain customized software, you can place your trust in us. Feel free to provide your details in the contact form below, and you can expect to hear from us sooner than you anticipate!